It's 2023, and backlinks remain as important as ever for SEO.
Don't believe us?
Look at these findings from independent search traffic studies: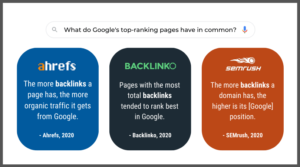 Bottom line? If you want more search traffic in 2023, you need high-quality links.
The thing is, there are hundreds of different ways to build links, and some methods are no longer effective.
That's why we wrote this list of 10 link building tips that actually work in 2023.
These tips are totally evergreen and 100% white-hat. You can use them to build tons of high-quality links with absolutely no risk of getting penalized by Google.
Enjoy!
1. Showcase Your Expertise with Guest Posts
Guest posting has been around for a long time. But it's still one of the most effective ways to earn high-quality backlinks.
How does it work? 
Pitch an article idea to a website in your industry
If they like your idea, write the article and add a backlink to your own site
Then, submit the article and allow them to post it for free
Here's an example of a guest post we produced for Moz a few years back:
While this article would have fit on our own blog, submitting it to Moz meant it would reach more eyeballs and have a greater impact on Sure Oak's search visibility.There's no denying guest posting takes a lot of work, but literally anyone can use guest posts to increase their brand awareness and search traffic. That's why 53% of link builders say guest posting is their most effective link building strategy.
That being said, it's important to approach guest posting thoughtfully. In order for guest posting to work, you should only contribute articles that fall within your sphere of expertise. Likewise, your posts must provide value to readers.
If, however, you abuse this tactic with low-quality content and spammy links, you'll only hurt your reputation with Google. Consider yourself warned.
On the other hand, if you use this tactic as an opportunity to share valuable information with a wider audience, guest posting will do wonders for your search traffic!
To learn more about guest posting, we recommend this awesome guide by Semrush.
2. Analyze Your Competitors' Backlinks (and Loot Them)
Out of all the link building tips on this page, competitive link analysis is our favorite.
That's because it's simple, it's focused, and it's a huge link building opportunity for any website — big or small.
How does it work? 
Find a competitor that is doing well in search rankings
Use a backlink tool to reverse-engineer their link profile
Then, imitate their approach to get the links for yourself
You can even do this with multiple competitors at the same time:
After typing two of our competitors into Ahrefs' Link Intersect Tool, we found a list of 2,577 domains that are linking to them, but not to us. This is a great place to start looking for link building opportunities.
This tactic is efficient because it replicates what your competitors are doing right. If a website is willing to link to your competitor, there's a good chance they're willing to link to you.
While competitive link analysis requires research and time, the backlinks are worth it.
To learn more about competitor link analysis, check out this extensive guide by Ahrefs.
3. Submit Your Links To Resource Pages
Resource pages are designed to list — and link out to — helpful articles, tools and resources in a specific niche.
The people behind these pages are usually responsive to pitches, which makes them an excellent target for the start of your link building campaign.
How does it work?
Identify a resource on your website
Find resource pages that may accept your submission
Reach out and —kindly — ask the editor to consider linking to your resource
We love this strategy because it's widely accessible. No matter how niche your business is, you're bound to find resource pages that will accept your submission.
While it certainly helps, you don't need web content to utilize this strategy. And if your business is a unique resource itself, you could even use this approach to get links to your homepage!
The key to this tactic is to identify two things:
How your business adds value on the web
Who will benefit the most from that value
If you can nail these 2 steps, resource link building will serve you well.
To learn more, we recommend this guide by Brian Dean.
4. Turn Mentions of your Brand into Links
Depending on your business, unlinked mentions could be a huge opportunity for hundreds, and possibly even thousands, and of new backlinks.
How does it work?
Make a list of unique products and services representatives for your brand
Find places on the web that mention those things without linking back to your site
Reach out to those websites and ask them to link to you
We've had great success with this tactic because it involves people who already know about you. And if someone is already talking about your business online, they probably won't need much convincing to link to your website.
While smaller or newer businesses probably won't find as many opportunities, we still recommend this strategy because it requires very little effort.
To get started, we recommend this guide by Ahrefs.
5. Find Dead Links and Raise Them From the Grave
This idea involves two link building tips that are conceptually similar: finding links that no longer work, and making them work again.
5-A: Link reclamation
Link reclamation involves claiming the SEO equity coming from pages that used to link to your website.
How does it work?
Find links to your website that no longer exist
Determine why those links no longer exist
Resolve the issue by reaching out to relevant webmasters
Check out this graph of our new and lost referring domains over the last 30 days:
Looks like we've gained a healthy amount of backlinks, but we've also lost 48. Since these prospects already know who we are, recovering those lost links is often more efficient compared with gaining new links.
If you're interested in link reclamation, we recommend this guide on SEJ.
5-B: Broken Link Building
This is one of the simplest link building tips out there, and it's very effective with the right approach.
Here's how it works:
Find a broken link on another website
Create a list of websites using the broken link
Reach out to those websites and suggest they fix it with your own link
Let's see this concept in action.
To begin, we ran Brian Dean's blog through Ahrefs and found a blog post that no longer exists:
According to Ahrefs, this page has 29 referring domains!
Next, we found an archive of that page with The Wayback Machine. Looks like that link used to lead to a blog post about avoiding Google penalties:
Lucky for us, we already have a blog post that covers this exact topic!
Now that we've identified a comparable piece of content on our own website, we can reach out to those 29 websites that are linking to the dead resource. Since an outbound 404 link is bad for SEO, we're betting that those webmasters would like to know about it. And, to make things even better for them, we'll provide them a link to our awesome replacement content!
It's easy to see what makes this a powerful tactic to gain links. However, it's important to remember that this strategy is tedious, and cutting corners could lead to a lot of wasted time.
To learn more about broken link building, we recommend this simple guide by Ahrefs.
6. Build Relationships (and Links) with Value Exchanges
Just as professional relationships can help you further your career, forming digital relationships can net you some high-authority backlinks.
However, asking for links without offering anything in return probably won't get you very far. That's why we recommend an exchange.
Value exchanges are when two parties agree to help each other out. In this specific instance, other parties will be helping you by linking to your website.
The best way to approach this tactic is with a give-first mindset. Once you're in contact with a party that is influential online, you should look for ways to offer value to that party.
Perhaps it's participating in their conversations on social media? Maybe it's a link to one of their resources on your own blog? Whatever it is, your goal is to help them.
Once you give them something, they'll — ideally — return the favor. In the world of social psychology, this is called the Rule of Reciprocity, and it works surprisingly well.
As an SEO agency, we're a huge fan of this strategy. We've built these cooperative relationships with hundreds of online authorities over the years, which is what makes our efforts so efficient.
At the end of the day, link building is all about relationships, and the more you have the easier it is to build links. And chances are, you already have these types of relationships, too. Consider these people your first opportunities, and start working on new ones as you go.
7. Leverage Niche Directories for Relevant Links
Web directory link building probably won't skyrocket your rankings, but it's still a great way to gain foundational backlinks that every website needs.
To be clear, you should avoid shady web directories that look like this: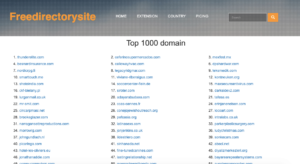 These websites are designed for link building purposes, and they will only hurt your rankings.
Instead, focus on niche directories that people actually use.
For example, Justia is a web directory that every attorney should be listed on.
No matter what industry you're in, there are at least 10 niche directories, like Justia, you can benefit from. And while the links are unlikely to have a huge impact on your rankings, they're still worth pursuing, and they're very easy to obtain.
To learn more about web directory link building, we recommend this guide on SEJ.
8. Build backlinks by helping journalists
Every company is an expert within its respective industry, to an extent. That means it's extremely likely you have the ability to talk about at least one topic with sincere authority.
The question is: how can you leverage that authority to gain high-quality backlinks?
It turns out, earning press mentions on news sites and blogs don't just generate more awareness for your brand; it's a phenomenal way to build natural, credible backlinks.
One of the easiest ways to garner media coverage is to respond to journalist inquiries. In fact, there are third-party services, like HARO, that connect journalists to sources every day.
All you have to do is sign up — for free — and you'll start receiving daily emails with a list of applicable source requests. If you find one you like, reply and offer up your expertise.
However, not all your attempts will be successful. To give yourself the best opportunity to be used as a source, make sure you focus on topics you can prove you're an expert in.
To learn more about HARO link building, check out this case study by Ahrefs.
9. Scale Your Backlink Campaign with Link Bait
Link bait is by far the most effective way to build high-quality links at scale.
While it requires time, resources, and advanced skills, this strategy will earn the "natural" backlinks you need to leapfrog your competitors in the rankings.
How does it work?
Choose an interesting topic that resonates with your audience
Find a unique angle that establishes you as an authority
Use your angle to create a unique asset — i.e. a piece of content
Promote your asset to relevant media outlets
While the details depend on your audience and goals, the concept is simple: tell a compelling story. This interactive map from Delta Airlines is a great example:
It shows which areas are open for travel, and it has already been featured in The Washington Post, MSN, Insider and other prestigious news publications.
While images and videos tend to get the most recognition when it comes to compelling content even a fascinating statistic or opinion can make huge headlines — as long as it's compelling.
For more information on link bait, we recommend this blog post by Semrush.
10. Optimize Your Internal Link Architecture
Internal linking is one of the most neglected tips on this list. We think that's a shame because it's also one of the most powerful ways to increase your Google rankings.
In short, internal linking involves connecting two or more pages on your website via links. This helps Google understand your website architecture and it passes on link equity to pages.
For example, assume this page has a lot of links pointing to it. To maximize the value of those links, we'll add an internal link to our link building services page.
When Google finds and crawls that link, it will assign some of this page's link equity to our services page, effectively increasing its search rankings.
To understand this concept better, here's a simplified diagram from Ahrefs:
The bottom line is that internal linking helps boost rankings for your entire website, and that's why everyone should be employing this tactic.
To learn more about internal linking, check out the full guide on Ahrefs.
Which Link Building Tips Will You Try?
Link building is the key to higher rankings for your website, and it's going nowhere in 2023.
You can use any of these proven link building tips to attract white-hat links to your website, but you shouldn't use all of them (at least, not at once).
Why?
Because it's easy to start, but it's also easy to get distracted.
Instead, we suggest starting with 2–3 of the link building tips on this list. After you've used them for a few months, you'll have a better idea of what works best for your needs.
Before long, your website will have hundreds — if not thousands — of new links, and your search rankings will be higher than ever before.
Need Help with Link Building?
If you need help crafting your strategy and building links for your site, consider hiring us for premium link building services. At Sure Oak, we build links to help our clients rank on the first page of Google, and we can help you too.
If you're ready to get started, schedule a free strategy call with us today.