On the list of tried-and-true link building tactics, guest blogging has a special place: SEO professionals have been using it successfully for decades to raise brand awareness, increase authority and drive traffic.
Over the years, many have predicted its demise. Famously, in 2014, Google Head of Spam Matt Cutts declared the form had no future. But eight years later, we can say definitively that link building through guest blogging isn't going anywhere. Every day, hundreds if not thousands of guest blogs are still published, and for one simple reason: guest blogging works.
What is Guest Posting/Blogging?
Before diving into the nitty-gritty of how guest posts work, it's worth first describing what precisely guest posting is.
At its most basic level, guest posting means publishing content on another person's or company's website. The range of potential posts here is endless: guides, how-tos, listicles, op-eds, and even personal stories. Basically, any kind of content that might catch a reader's eye and compel them to spend five or ten minutes listening to what you have to say.
On one level, it's a way of introducing yourself to a new audience and getting you and/or your company's name out there. More relevant to our interests here, it's a time-tested way of improving your website's backlink profile and Domain Authority. Most outlets that accept guest posts allow the guest to include a few links to their own site in their article, and these backlinks can be a strong signal to Google that your site is trusted and authoritative in its space.
Benefits of Guest Blogging for Link Building
The benefits of guest blogging for link building purposes are manifold, and check countless boxes for those looking to expand their internet presence. Some of these include:
Increased Credibility and Authority
Given all the spam and bad-faith advertising we're subjected to on a daily basis, today's internet users are understandably wary: before they'll consider doing business with a given site, they're going to want to make sure that the site in question is actually credible.
And what better way to suggest credibility than to publish on another trusted website? When people see you've published elsewhere—and that others feel comfortable aligning their brand with yours—it instantly (and organically) boosts your authority in the space you're operating in. To get a guest post published on another person's or brand's site is to get a valuable co-sign: I think this person/brand is valuable, and therefore, you should too.
Improved Search Rankings
The kinds of things we've been discussing so far—increased traffic directed by relevant sites; increased credibility and authority—are precisely the signals that Google looks for when its algorithms rank its pages.
A quality guest post on a relevant website tells Google that your site is trusted and respected in its field. Invariably, signals like that will help to rescue you from the no-man's-land of page three or four of the search results for your relevant keyword.
Increased Reach and Traffic
An added benefit is some increased traffic to your website. Guest posting can allow you to tap into an entirely new, pre-built audience—i.e., the audience of the website you're publishing on. Every member of that new audience might not read your article; and of the ones who do, not all of them will click over to your site. But—and this is the important part—some will. Again, although not the primary goal, some increased visitors is always a good thing.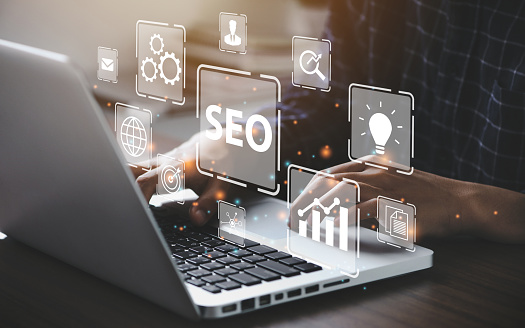 It's worth pausing here to discuss what guest blogging used to look like. A decade ago, people would guest blog indiscriminately. There were hundreds of spammy content farms that existed specifically to host guest posts, usually charging a fee for the privilege. The thinking was: the more guest posts I publish, the higher my SERPs will be. Posts were repurposed for different blogs with minimal changes made; the quality of the content was more often than not depressingly low.
Guidelines to Follow in Your Guest Blogging Strategy
Today, we know that this is a deeply misguided approach. You can publish hundreds upon hundreds of guest posts, sure—but if they're on low-quality sites, Google won't care. In fact, Google might actively penalize you for attempting to game the system.
No: the only viable approach, today, is to aim for quality over quantity. A single high-quality guest post on a relevant niche site can do more for a website than dozens or hundreds of low-quality guest posts on content farms.
The best practice for guest posting and link building is to think about what you would actually want to read. Would you want to read a low-quality post banged out specifically to generate traffic? Probably not. You—like the people who will eventually be reading your posts—want insight. You want to feel like someone is telling you something in good faith, without trying to manipulate you.
Put otherwise: the best approach, when it comes to guest blogging, is to not even think of it as an SEO tactic. It is an SEO tactic, of course—an extremely effective one—but it can only be effective if you're entering into the process in good faith, with the desire to share hard-earned wisdom with a new audience.
Finding Guest Blogging Opportunities
You'll notice that the word 'relevant' has come up over and over again in this post. It's time to dig into what that actually means.
Basically: if you sell bicycles, you don't want to guest post on a site targeted at dental professionals. The goal, when looking for guest blogging opportunities, is to find your niche: a website that speaks to the same audience you're trying to capture every day.
Of course, this website needs to accept guest posts. Finding a website like that is its own process. For instance, if you sell home decor, you might search:
Keyword "interior design" "write for us"
Or
Keyword "interior design" "guest blogging guidelines"
That said, here's a little secret: not every website that accepts guest posts is going to say as much on its website. In fact, it's often the case that the highest-quality websites don't even mention that they accept guest posts. Websites like these have hundreds or thousands of people vying to contribute to them; they don't need to actively solicit writers. So don't let the lack of a 'write for us' section limit you at this stage.
It's also worth checking out what sites have backlinked to your competitors, as well as places your competitors have guest-blogged. That should give you a solid sense of the guest-blogging landscape for your content.
After taking those steps, you should have a solid list of websites you'd like to pitch. The next part of the process, then, is to do your research. Do these sites have a high-enough Domain Authority? Is their content high-quality? Does it perform well on social media? More importantly: do they grant their contributors full bios with links and headshots? You don't want to go to the trouble of making a guest post only to see those links stripped out when the post is finally published.
Crafting Your Pitch
Once you've decided on where you'd like to guest blog, it's time to start crafting your pitch.
The main thing to keep in mind, here, is this: the people reading your pitch will be reading dozens of other pitches that day. Depending on the site, they might be reading hundreds. Your goal, then, needs to be to stand out from the pack—to demonstrate, quickly and effectively, why what you're offering will be better for their audience.
Sounds difficult, right? Luckily, there are a few things you can do to ensure your pitch gets at least a second glance.
For one thing: keep things short and punchy. Again, these editors are time-pressed: if they open an email and find a dozen densely-packed paragraphs, they're much less likely to listen to what you have to say.
Next: do your research. Make sure you know, inside and out, the kind of content your target outlet publishes, and make absolutely sure that the content you're offering would fit neatly alongside it. Maybe take a quick look at their most-shared content and try to shape your pitch along those lines.
And also: don't forget to network. Follow relevant editors on Twitter and (respectfully) interact with their content. Leave fun, constructive comments on your target website's content. The point is to get your name in the relevant editor's head—so that when it comes time to pitch them, you're not just another face in the crowd. They'll know your name, and for that reason will be more likely to check out what you have to say.
Creating Quality and Relevant Content
Congratulations! You researched the perfect target outlets, you networked with its editors, you sent a snappy, to-the-point pitch, and—after some back-and-forth—that pitch has been accepted.
Now it's time to actually write the post.
Here it's worth thinking back to something we mentioned earlier. Namely: you are not in this to drive traffic, increase brand awareness, or improve your SEO. Those are just the happy side effects of what you're actually doing: i.e., sharing relevant, insightful commentary with a new audience.
That means being authentic. That means sharing relevant anecdotes from your own work that might help a potential reader. It means speaking from your own experience to address an actual need in your readership. It means finding an interesting angle—something that we haven't already heard a million times—and backing your opinions up with credible sources. It means staying on target from the first word to the last, taking your reader on a guided journey, and leaving them with a key takeaway insight (or two, or ten).
Beyond that, there are a number of things you can do to improve and streamline the reading experience. For instance:
Bullet points, like these, can help to streamline the text.
Subheaders, like the ones you've seen throughout this article, can also make things easier on the reader.
Pull quotes are great too!
And don't forget custom images, which are an easy way to heighten your post's visual interest.
Follow up and Measure
Once your post is out in the world, you're going to want to get a clear, detailed sense of how it's performing. Is the post driving traffic? Has it driven any sales? Are people following you or your company on social media?
Paying attention to measurements like these can help you determine where to allocate your resources in the future. While it is nearly impossible to really estimate how much of an impact in the SERPs any one specific guest post has had for your site, if you are not finding many strong opportunities for guest posts (measured in terms of DA and other sitewide metrics), maybe think twice about guest blogging for them again, or brainstorm ways to vary your approach in order to better appeal to their audience. On the other hand, if a guest post has led to a surge in interest, definitely consider writing again for that outlet in the near future.
Valuable But Time-Consuming Strategy
Again: few SEO tactics over the years have demonstrated themselves to be as consistently effective as guest blogging. There is a reason that year after year, people still guest blog in vast numbers.
Of course—as this post has likely made clear—link building through guest blogging isn't a simple process. You have to find the right websites; you have to make sure those websites have a high DA and accept guest posts; you have to craft a pitch and develop relationships with editors; you have to submit the pitch and—if the pitch is accepted—you have to actually write the post.
Put otherwise: guest blogging may be effective, but it isn't easy. Just the opposite, in fact.
Dedicate Appropriate Resources
For that reason, it's imperative that websites dedicate the appropriate resources to make guest blogging work. Often, the best move is to outsource the process to a trusted guest blogging service made up of people who already have a pre-existing network of websites and contacts, as well as a deep knowledge of the kinds of content that is most effective for generating traffic and increasing brand authority.
But whether you go it on your own or contract a third-party firm, know this: guest blogging is here to stay.