This is why link building tools matter:
In the world of SEO metrics, you are judged quite severely by the company you keep. And if valuable websites link to your website, it becomes more valuable.
Ultimately, search engines have one primary goal: to ensure they provide high-quality content that's relevant to users.
A website's authority is partially how search engines measure the quality of a website, which is determined by the number of links it's receiving from other websites.
Link building is all about improving your website's authority. The general idea is that if other sites with authority are linking to your site, it sends Google a positive message.
And while link building campaigns are a necessity if you want to outrank the competition, without the right link building tools, you can find yourself spinning your wheels.
Don't fret. We're here to help with this list of amazing SEO tools to help you implement an effective on- and off-site link building strategy and get your domain authority to skyrocket.
But beware, finding the best link building tools has its own unique challenge: it's easy to get stuck on the eternal quest to find the perfect SEO link building tools and — in the process — lose sight of the work that needs to be done.
So while it's good to check in and reassess the tools you're using every few months to ensure you're not still using a horse and buggy in a world full of electric cars, there is also something to be said for sticking to what works best for you, regardless of what anyone else is using.
But don't worry. Regardless of whether you're new to link building or you're simply looking to add some additional tools to your link building toolbox, we've got you covered.
The SEO link building tools you can't do without
For every step of the link building process, there is a specific set of SEO tools:
Now, let's take a look at each set of link building tools as they relate to those five steps.
Link Analysis Tools
Link analysis tools are where just about every link building campaign begins. They are the first step to understanding how your backlink profile compares with competitors' and will even provide you with valuable strategies based on what's working for competitors.
Benefits
Moz Link Explorer is efficient, easy-to-use, robust software that helps to get the stats on the status of your link building strategy and those of your competitors. It's popular, established, and the free version offers 10 link queries and 50 rows of data per query every month.
Features
It not only assesses which sites are linking to yours; it provides qualitative and quantitative data on backlink domains.
It also allows you to review data on your backlink profile so that you can decrease spammy and broken links that may be harming your website:
Moz Link Explorer
And it helps you understand the kinds of anchor text being used to link to your pages:
It allows you to check your domain authority as well:
You can even perform those same tasks on your competitors' sites. And if you need to do some quick research to get basic info on a URL, use the Free Domain SEO Analysis Tool.
Bottom Line
They don't call it the World's Best BACKLINK CHECKER for nothing. We're talking 40 trillion backlinks here. This is the heavyweight.
Benefits
While Screaming Frog offers a variety of SEO services, we're going to focus here on their magnificent spider tool. The spider tool crawls websites and extricates the data you need to build and maintain your SEO strategy. This tool will give you intel on all the technical aspects of your site that are making it succeed, as well as any issues that are potentially hurting it.
Features
The spider tool helps you easily analyze metadata in order to identify issues with page titles and meta descriptions. It also performs a comprehensive technical SEO audit that includes information related to identifying URL issues, broken links, and redirects: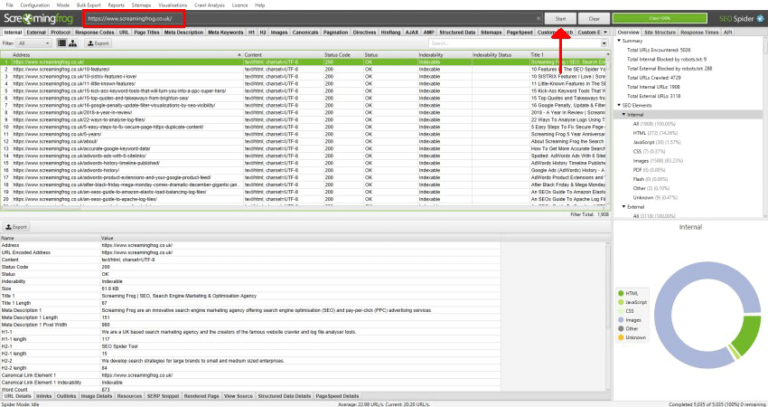 Screaming Frog
It also crawls for external links and helps you identify duplicate content on your site:
It even integrates directly with Google Search Console and Google Analytics.
There's a free service available that limits you to crawling sites with 500 pages or less, but there's also a paid version that allows you to crawl an unlimited number of pages.
Bottom Line
It's used by a few companies you may know, such as Apple, Amazon and Google. That says it all because if it's good enough for the best it should be good enough for you too.
Benefits
Find out what your competitors are doing in both organic and paid search results. Like what you see? Now you know how to beat them at their own game.
Ahrefs' Site Explorer tool provides a comprehensive summary of SEO components, including backlinks, referring domains, and organic and paid search value:
Features
Ahrefs' most robust tool, Site Explorer, is essentially three tools in one that helps you research organic traffic, backlinks and paid traffic:
Ahrefs backlink database is also massive: it stores data on over 1.9 trillion backlinks. Its keyword research tool is just as impressive; it includes more than 475 million keywords.
Bottom Line
Ahrefs site explorer is hands down one of the best link building tools to get insights on your competitors' link building strategies — and don't worry, they're likely doing the same to you.
Benefits
This comprehensive link explorer tool gives you access to a massive URL database, without any restrictions. The best part? Efficiency, efficiency, efficiency (we know, saying it three times is not very efficient), allowing you to analyze multiple links at once: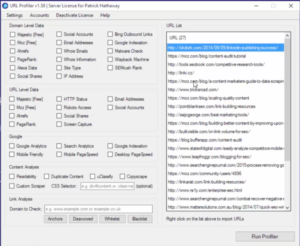 Features
With URL Profiler, you're getting speedy and effective link prospecting. It helps you narrow down opportunities fast so you can focus on the prospects that are worth reaching out to. It also allows you to export link audits that can be opened directly in Excel.
URL Profiler
It also allows you to do simple domain research, helps you identify spammy anchor text usage and integrates with other popular tools, like Moz and Ahrefs.
Bottom Line
URL Profiler is comprehensive, intuitive and affordable. It's hard not to consider adding it to your link building arsenal.
Outreach Tools
You've done your research, and you've uncovered some stellar prospects. What's your next move? Well, now it's time to reach out to those prospects and these are the tools to do it:
Benefits
BuzzStream is a robust end-to-end outreach platform designed specifically for professional link builders. It essentially does a lot of the dirty work for you so you can spend more time reaching out and less time scanning endless spreadsheets. One of the most noteworthy benefits is BuzzStream's A/B Testing capabilities — the insights it provides are pure gold.
Features
BuzzStream offers specific link building project management features that will help you keep track of your overarching link building strategy:
It also helps you integrate your prospect research and even manage email campaigns:
Bottom Line
BuzzStream is a PR dream hire in digital form, and it works for businesses of all sizes. Its link building capabilities are massively insightful and extremely thorough.
Benefits
Group High connects you to a massive database of bloggers and Influencers. But it doesn't just connect you; it also helps you manage your connections in an easy-to-use interface:
Features
Group High allows you to search for the most comprehensive list of bloggers out there, as well as Influencers across all major social media platforms. In addition, it provides a platform to manage relationships with bloggers and influencers you connect with. It's even capable of weeding out fake profiles so you don't ever have to worry about wasting your time.
Bottom Line
Self-described as the swiss-army knife of blogger outreach, influencer marketing, SEO, and affiliate marketing tools, Group High connects you to the Who's Who of social networking.
Benefits
If cold calling makes you shudder, read on. Respona is an all-in-one outreach platform with a novel perspective on how AI can be used to promote your link building and Digital PR efforts.
Features
Respona is an all-in-one tool for Digital PR and Link-building. It allows you to search by content instead of people in order to help you gain links from relevant websites.
Respona features high-level AI personalization. The result? You don't have to feel like a spammer. The other result? Responses and results. It even helps you find email addresses for almost anyone, and send personalized pitches to journalists and bloggers:
Not only that, Respona integrates with Ahrefs, HARO, Moz, Semrush and more.
Bottom Line
Respona is doing something different, capitalizing on what AI offers to create truly meaningful connections and open up opportunities that you may have thought impossible. Not only that, it goes a step further and helps you reach out with personalized messages.
Benefits
Created by the developers of Semrush, Prowly is a one-stop, top-notch DIgital PR tool. Prowly helps you to not only improve your brand's awareness, but sustain that awareness, by helping you discover new media opportunities and create quality pitches:
features
prowly links to authoritative media sources that will get your message to the right people, essentially taking the headache out of creating press releases and story pitches. it also provides customized search options so that you get to where you need to go quickly:
It also offers Digital PR project management tools, helps you analyze your audiences' responses and publish press releases.
Bottom Line
There are many Digital PR tasks that you simply don't have time for. Prowly can help businesses of all sizes streamline their link building outreach effort to be more efficient.
Benefits:
Postaga is an excellent tool for scaling link building outreach efforts.
It essentially allows you to do more, faster.
Features:
Postaga is another link building tool that harnesses the power of AI. It offers a database of relevant backlinks, shares, and promotions, and has personalization features:
Postaga
Postaga analyzes content to identify opportunities and uses AI to research — and even connect to — relevant influencers. It also helps you access elusive contact details and create personalized emails that can be set up as automated email sequences.
Bottom Line
More, more, more — that's the idea here. By harnessing the power of AI, Postaga helps you build more links, reach more contacts, and ultimately create more relationships.
Rank Trackers / Reporting Tools
How are you doing? That's the question that rank tracking tools help you answer. By knowing where you're at, you can figure out where to go.
Benefits
Nightwatch offers a comprehensive set of tracking, reporting and monitoring features that apply to every stage of the marketing funnel. It also offers an outstanding API, which means you don't have to worry about it running while you go about your workday.
Features
Nightwatch allows you to easily analyze rankings in search results for specific keywords:
In addition, Nightwatch detects issues on your site so that you can fix them before they result in a ranking drop and it provides expert, on-demand reporting:
It offers both local and international tracking, has a competitive pricing structure, features a user-friendly design and shows you whether or not what you're doing is working.
Bottom Line
Used by big names, including Shopify and Booking.com, Nightwatch will help you grow your business by providing a complete overview of where you're at. It's essentially the gold standard for tracking and reporting link building tools.
Benefits:
An often overlooked but extremely powerful reporting tool, Advanced Web Ranking allows you to track rankings based on a variety of search criteria. It's also been around longer than any other reporting tool — so, yes, they really know their stuff.
Features
Advanced Web Ranking monitors rankings on more than 4000 search engines across the globe — because Google is not the only search engine out there. It provides keyword ranking data for both desktop and mobile, just like Google Search Console.
It also offers scheduled reporting, so you'll have reports on your desk every Monday with that fresh cup of coffee. Advanced Web Ranking also offers a bunch of free tools that help you track things like Google Algorithm updates and even click-through-rate (CTR) insights:
It even includes data visualization tools to help you see how your site's performed over time.
Bottom Line
Don't overlook this powerful link building tool. It offers valuable insights into how your strategy is playing out so you can capitalize on opportunities and foresee volatility.
Benefits:
Kerboo provides comprehensive reporting using a wide range of data — but there's more to it than that. Kerboo also provides expert advice on what to do with the data.
Features
Kerboo performs expert backlink audits of your website. It can even be used to create disavow files, which tell Google which links you would like to exclude from counting toward rankings. The result? Fewer bad links, which builds rapport with search engines.
Kerboo even utilizes original metrics: LinkRisk and LinkValue:
You can also use Kerbook to develop link audit reports that include actionable steps to make improvements moving forward:
Bottom Line
It's hard to describe it as a "tool" when the service they provide is more of a consultancy. In a nutshell, Kerboo takes reporting to the next level, plain and simple.
Benefits
Agency Analytics is a one-stop monitoring and reporting shop, specifically targeted at marketing agencies. It's fully integrated with major channels, and their white label approach even allows you to customize the user interface with your own branding.
Features
Agency Analytics allows you to connect all your marketing channels in one place and create personalized dashboards for each of your clients. It includes a suite of SEO tools that allow you to track keywords, monitor backlinks and perform site audits. You can also use it to schedule automated reports — which can also be personalized — for clients.
Agency Analytics
Bottom Line
For marketing professionals, Agency Analytics is a no-brainer. It takes all the fuss out of your day-to-day so that you can focus on providing the best service to your clients.
Keyword / Content Explorer Tools
And of course, a quality link building campaign involves linking to quality content. So we've gathered the best content discovery tools that help support any link building effort.
Benefits
BuzzSumo is an extremely effective content discovery and research tool that will help you figure out what content ranks and what content tanks. It helps you find the most influential articles on specific topics, provides expert insights into the reach of that content and helps you understand what you could be doing differently to improve your content strategy.
Features
BuzzSumo offers an effective keyword tool that will help you answer the question, "What should you write about next?" for when you're all out of content ideas:
It also shows what kind of reach and engagement your content is generating:
In addition, BuzzSumo highlights the keywords and content types that are performing best in your industry and includes an alert system so you can track your content in real-time.
In addition, BuzzSumo offers valuable backlink tools, including backlink monitoring. And it can help you discover influencers who can help you boost your brand on social channels.
BuzzSumo also includes a Chrome extension, making it readily accessible for Chrome users.
Bottom Line
BuzzSumo is extremely powerful and will help you discover which content strategies are working so you can create the best content to support your link building efforts.
Benefits
Ahrefs helps you find out what type of content will gain traction, which helps you figure out what to create next. It also provides a high-level technical analysis of content on your site:
Features
Ahrefs' Content Explorer tool monitors your rankings across search engines and devices. It also tracks shares across social media platforms:
The Content Explorer tool is one of the most efficient ways to uncover keyword opportunities. You can analyze competitors' sites to see what's working for them or audit your own content for gaps and technical issues that may be holding it back in the SERPs.
Bottom Line
Ahrefs Content Explorer is an invaluable tool for SEOs who have a high degree of tech knowledge but also offers actionable insights for those who are new to the game.
Benefits
Ubersuggest is Neil Patel's keyword research tool. But since Patel is regarded as the content marketer, it skews a bit toward content. It allows you three daily keyword/domain searches, for free. But, of course, there are Premium options that grant access to additional features.
Unlike a lot of content tools, Ubersuggest is very easy to use, especially if you're not looking for too much technical info. Look what happens when you type "poodle" in the search bar:
Ubersuggest also provides lists of relevant keyword phrases:
Features
In addition to its content capabilities, Ubersuggest provides a comprehensive audit tool to identify any glaring SEO issues. You can also use it to discover backlink opportunities. And, like many other content-focused tools, it allows you to save lists of your keywords as well.
Bottom Line
Ubersuggest is especially valuable if you are new to SEO or link building. It's a fast, efficient and free way to enter the world of link building tools.
Benefits
A major player, Semrush offers a comprehensive suite of SEO tools. They've got it all. For now, we'll stick to what they offer in terms of content as it relates to link building.
Features
Semrush provides five link building tools for auditing, analytics, competitor analysis, bulk link building and link acquisition. See how it works in action (and, yes, it's for poodles, again):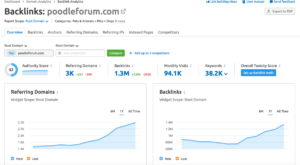 Semrush also allows you to map and manage your entire content strategy with its project management tools. It will even help you find out what you should be writing about and which sites you should be linking to with its topic research tools:
In addition, Semrush allows you to create content management templates and track the performance of all your content by specific keywords— as well as the content of your competitors
Bottom Line
Semrush is the cream of the crop; a one-stop-shop solution for anyone keen to stick to one do-it-all platform. It's one of the heavyweights on this list, but it's on here for a reason.
Browser / Chrome Extensions
And finally, the tools that save you loads of time and help streamline the work you do on a day-to-day basis: browser extensions. Below are the must-have extensions for link builders.
Benefits
Hunter is a top-notch connection tool that helps you find the contact details for the connections you want to make. It's reliable, easy-to-use and popular.
The tool also now includes an email tracker which helps you better understand the success of your outreach campaigns — "Did they even open my mail? Oh, look! They did!"
Features
Hunter helps you easily find the contact information for the people connected to the website you are visiting. More specifically, it reveals the name and contact details of the author of a particular page. It also allows you to save all contact details to a list.
Hunter also includes MailTracker, which helps you track any emails you send contacts:
Hunter can easily be added as an extension in Firefox as well as Google Chrome/Sheets:
Bottom Line
The Hunter extension is easy to use and it's accurate. In fact, once you've added it as an extension, it may be hard to work without it.
Benefits
MozBar, a toolbar that enables you to see a wide range of link metrics as you surf the web, is one of the most popular extensions used by digital marketers. It's an essential extension for link builders. There's a free version, but for the best features, you'll need a Pro subscription.
Moz
Features
MozBar provides metrics, like page authority and domain authority, instantly. By enabling its overlay option, you can analyze metrics in real-time. It also offers a highlighter tool that allows you to mark up a page's keywords and links — internal and external.
The MozBar extension also allows you to export data as a .csv file straight from Chrome.
Bottom Line
MozBar provides just about everything you could ever want from a link building extension. However, it's not for everyone, as it's only available on Google Chrome. Sure Oak also has a Free Domain Authority Checker you can use to check your DA using data from Moz.
Benefits
Streak is a workflow management extension for your email inbox. And if you use it effectively, it can turn your inbox into a full CRM system for your outreach campaign.
Features
Streak offers project management tools specifically for Gmail. With Streak, you can easily turn your Gmail into a full-on management system for your link building outreach campaign. It even provides insightful metrics so you can track your campaign's performance.
You can also use Streak to produce activity reports for clients. It also syncs with mobile devices so you can easily send contacts directly to your phone
Bottom Line
Streak can be a particularly valuable tool if you already use Gmail and want to leverage it as a dedicated CRM. It's simple but capable, and the Basic Plan is available for free.
Benefits
LinkMiner is an easy-to-use, fast and effective way to identify and eliminate broken links. It's an ideal way for beginners to learn more about one of the building blocks of link building.
LinkMiner
Features
LinkMiner is fairly straightforward. It most useful for checking websites for broken links: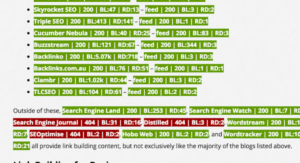 But that's not all LinkMiner does. It also pulls link building metrics, such as the total number of external links on the page you are viewing. It's available for Chrome and Firefox.
Bottom Line
LinkMiner is a simple and effective link building tool that will help you quickly identify broken links. If however, you don't want to add another browser extension to your toolbar, you can also use Sure Oak's Broken Link Checker. Does the same job, and it's free.
The Right Tools Can Improve Your Link Building Efforts
New, innovative and high-quality link building tools are released all the time. And while some, like Ahrefs and Semrush are bound to be mainstays in every link builder's toolkit for the foreseeable future, there are tons of other tools that — combined — could help take your link building efforts to a whole new level. The ones on this list are a great starting point.
And while you're testing out tools, be sure to check out Sure Oak's comprehensive selection of SEO tools, all of which are completely free.