Only 0.63% of users searching on Google click on an entry from the second page. Hence, the ultimate goal for any SEO is to have their content rank on the first page.
When I was tasked with building more links to our QR Code Generator tool for the keyword "Free QR Code Generator", I knew it was going to be an uphill battle.
With a keyword difficulty of 93 (or "Super Hard" as Ahrefs calls it ) and tons of pre-existing backlinks built by other well-established pages, every move I made had to be highly strategic.
I had to take into account that each backlink has a different "weight". A link from an author bio, for example, will have less value than a contextual link. In addition to this, an overly optimized anchor text may also negatively impact your page's SEO.
In a span of 4 months, the QR Code Generator started ranking on the first page for this highly competitive keyword. Here are some of my top tips for using link building to significantly boost your ranking:
7 ways to build links to boost SERP rankings
1. Guest Posting
Even if some SEOs have written guest posting off, this strategy can actually help you build quality backlinks and attract more traffic.
Now, guest posting isn't unconventional by a long shot—but there are novel ways to go about it. In some cases, I found that the usual methods of submitting a pitch on the website's "Write For Us" page or cold emailing didn't work. I had to find a method that was more full-proof—and it came through accessing new channels.
Engage the Chatbot or Support team
Instead of navigating the usual routes, I submitted a query to the chatbot on the website or wrote an email to the support team. From there, I asked to be redirected to the content marketing team. 9/10 times, a real person replied positively.
Pointers to keep in mind:
Introduce yourself quickly
Be personal and mention a specific blog post you liked
Keep it short and be direct about writing a potential guest post
Include your previous samples
Ask them if they would like to guest post on your website
Reply to emails in Promotions
My next step was to subscribe to the blog and newsletter of the website where I wanted to get a backlink from and then reply to the email (they usually land in Promotions if you use Gmail) with a quick hello and my value proposition.
You can try this too by replying to newsletters that land in your Promotions tab.
Here's a screenshot of my successful attempt:
Use LinkedIn/Twitter
The website's editorial team usually has its social media profiles linked to the blog posts they've written or on their "About Us" page.
Knowing this, I reached out to members of the editorial team on LinkedIn and Twitter to see if they would be interested in a guest blog collaboration or if there was a topic they would be interested in.
It's important to note that if you're using LinkedIn, don't just send them a connection request. Always add a personalized note stating exactly why you want to be connected. You can also leave a comment on their latest post saying you'd like to connect.
2. HARO (Help A Reporter Out)
Cision's HARO is a unique way of contributing to articles written by journalists and bloggers around the globe for major publications.
A tad bit intimidating at first, HARO is ultimately fairly easy to set up. Choose the industries that you'd like to potentially get a backlink from and you'll start receiving emails at 5:35 am, 12:35 pm and 5: 35 pm EST.
If you're unsure, you can choose Master HARO. You'll receive emails from all industries. Also, follow HARO on Twitter to respond to #UrgentHARO queries from reporters on a deadline.
Tips to crack HARO:
Respond within an hour of receiving the email. Inboxes get flooded so the faster you respond, the higher the chances of your pitch being seen.
Your subject line is key. Limit yourself to 20 characters (HARO adds "HARO: New Pitch" at the start of every subject line).
Break up the subject line into two sentences: start it in the subject line and end it in the body of the email. I picked up this trick from an article written by Dave Gerhardt while he was at Drift and it has never failed.
Read the requirements carefully. If they need a blockchain expert to respond and you're not one, let that one go. If they need you to add your profile photo in the email as a link, don't add it as an attachment.
Write a concise pitch. Don't spend too much time introducing yourself or being vague. If you have numbers to back up your statement, add them.
Don't offer to introduce someone you know. Journalists don't have time to reach out to third-parties when working on a deadline.
Follow the publication on social media if you're not doing that already.
Be patient. Some pitches only get accepted 2 months after they are made.
I responded to Fit Small Business's query as to how real estate can leverage smart signs powered by QR Codes and NFC for lead generation.
Here is the pitch I sent: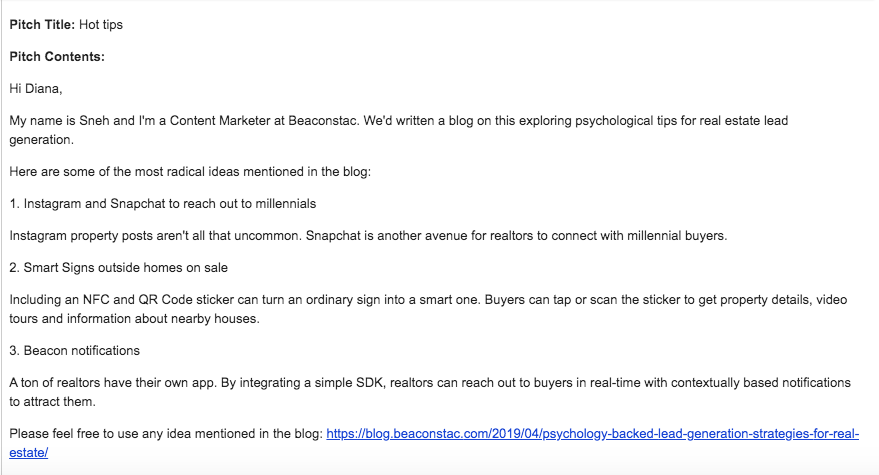 And the link to the published article and a snippet:
With HARO, I initially responded to anything that was remotely related to marketing, and the conversion rate was hovering around 13%.
I later switched to first checking the DR of the publication on Ahrefs and answering only targeted pitches and the results were far better. The conversion rate now hovers around 36%.
I've put together a template in this Google Doc that you can copy and use for your next HARO pitch.
Bonus Tip: Reach out to authors that accept your HARO pitch to see if you can publish a guest post on their website.
3. Journo Request
Journo Request is similar to HARO in some respects except it curates tweets under various categories and you get a single email at 10:15 am EST.
The steps to answering a Journo Request are similar to how you would answer a HARO one. You can either reply to the Twitter thread or send an email to the author.
I responded to a tweet by Paul Snell, Deputy editor at B2BMarketing.net who was planning on covering a simple UX change on a website that had a huge impact.
Since we were rapidly iterating on the UX of the QR Code Generator, I looked for his email and sent him a pitch. The piece was published in B2BMarketing.net's offline magazine as well as its online gated content.
4. Outreach Strategy Tips
Getting more links to your page entails a detailed outreach strategy. Ahrefs has a comprehensive article on how you can use Link Outreach to build links.
As a result, I'll avoid the most common techniques here and rather explore the more unconventional approaches that I have found to work
Do Competitor analysis
Export data about your competitor's backlinks from Ahrefs and check for overlaps. A site that has linked to more than one competitor is more likely to link to your page.
Search for your keyword on LinkedIn
Use LinkedIn to find posts and people that have mentioned your keyword. I did a quick search for "QR Codes" and reached out to everyone that might be inclined to link to our tool.
Use tools like Link-able
The best way to get a relevant link is by approaching an author who has previously published articles on a website/domain you want a link from. You can use Link-able to connect with authors that are in the process of writing a guest post and can add a relevant, organic link to your site.
Offer incentives
You can increase the chances of getting a link from a website if you are able to offer a free trial of your software for their users or an exclusive discount.
If you don't have a physical product, you can also work towards a collaboration where you add each other's links on relevant websites without overly optimized anchor texts.
5 Profile Creation
Profile Creation is an easy tactic that I used. It's important to note that it might be considered spammy if you don't do it right. Here are some tips from my experience:
Only create profiles on high DA/DR websites
Avoid sites that are still living in the 90s, have a spammy UI/UX and way too many pop-ups
Make sure to fill out your entire profile, not just the URL
Have several people on your team create profiles
Add a status update, a blog post or some content to legitimize your profile
Pace yourself. Don't create 10 profiles in a day.
6. Product Hunt
Reach out to hunters on Product Hunt to see if they would be interested in "hunting" your product. I found that this serves a dual-purpose by both boosting SEO and driving traffic to your page.
Here's Beaconstac's Product Hunt post:
P.S. Stay active on the Product Hunt community and engage with other products to activate the Law of Reciprocity.
7. Embeddable code
Our QR Code Generator offers users the chance to embed code on their website which automatically adds a link to our tool.
You can do this with infographics, statistics, or widgets that you've built.
The Results
First off, here's a quick glance back at the unconventional approach I used to successfully build links to improve our SERP ranking:
Reach out for guest posts via chatbots, social media, or Promotional emails.
Use HARO to get links or mentions of your website
Sign up for Journo Request
Switch up your outreach strategy
Create relevant profiles on high DA websites
Get hunted on Product Hunt
Offer embeddable content
Running this SEO experiment allowed me to toy with new tools and be featured in several leading publications like The Manifest, B2BMarketing, Fit Small Business, Databox, Process Street, SmarterCX, Crowd Content, 10Web.io, and Business 2 Community.
As a result of combining these unconventional methods, along with a tried and tested link building strategy, Beaconstac's QR Code Generator started ranking on the first page of SERP for "free QR Code generator" in 4 months.
Whoever said you had to be conventional?
This is a guest post by Sneh Choudhary at Beaconstac.