Search engine optimization (SEO), or the process of improving the visibility and ranking of a website on search engines, is an essential process for growing one's business. SEO offers businesses benefits like attracting more traffic, leads, and customers, as well as increasing brand awareness and credibility.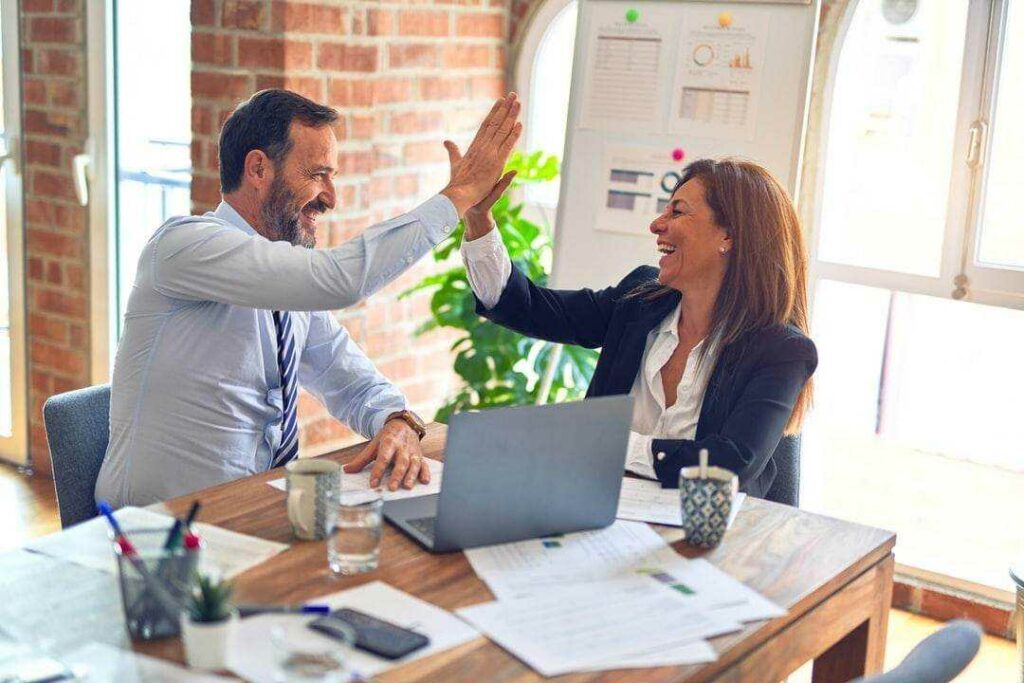 Different industries and niches have unique challenges and opportunities when it comes to SEO, and this includes the financial industry. Additionally, with strict government-mandated guidelines and regulations for financial organizations to follow, these businesses must use financial SEO strategies when optimizing web pages.
Let's take a look at what financial SEO is, as well as detail five essential tips to use for your business.
What is Financial SEO?
Financial SEO is a subset of SEO that focuses on the specific needs and goals of the finance industry. Financial SEO requires a deep understanding of the financial market, regulations, and compliance issues, customer behavior and expectations, and the competitive landscape of the industry.
Financial SEO also involves creating high-quality content that addresses the pain points and questions of your target audience, as well as building trust and authority with them and Google. Financial institutions are held to a higher standard when it comes to the advice and information they provide, which must be reflected in the content they share on their website.
Some aspects of financial SEO that differ from regular SEO include:
An emphasis on gaining trust, relevance, and brand authority in the finance space
A higher standard of quality, accuracy, and professionalism in all content
A need to meet Google's Your-Money-Your-Life (YMYL) expectations
A need to keep up with rapidly changing trends and current events
The requirement to follow all government regulations related to financial organizations
Let's get into five SEO strategies that all financial businesses should implement, as well as how to cater these steps to the specific needs of this industry.
1. Keyword Research and Optimization
To reach your target audience on search engines, you need to know what they're searching for. Keyword research is the process of researching the words and phrases that your target audience uses to search for information or solutions related to your business. Keyword optimization, then, is the process of strategically incorporating those words and phrases into your website content.
Optimizing Website Content with Targeted Keywords
Optimizing website content requires strategically using both primary and secondary keywords. Primary keywords are the most searched-for keywords related to your niche or topic. Primary keywords and phrases should be incorporated throughout their respective web pages.
Secondary keywords are other popular words or phrases your target audience searched. They should be incorporated throughout the text but less frequently. By incorporating these keywords, your target audience is more likely to find your website when they search for related phrases.
Meta Tags and Descriptions
Meta tags are short snippets of text that provide information about a web page to search engines and users. They are not visible on your web page, but they can affect how your web page is displayed in search results.
Meta descriptions are meta tags that provide a brief summary of your web page's content. Meta descriptions are usually displayed below the title tag in the search results.
To optimize your meta tags and descriptions, make sure to:
Use your primary keyword in your meta tag and meta description
Write unique and descriptive meta tags and meta descriptions for each web page
Keep your meta tag between 50-60 characters and your meta description between 150-160 characters
Use the active voice and action verbs to create a sense of urgency or pique curiosity
2. Building a Strong Backlink Profile
A backlink is a link from another website that points back to your website. A backlink profile is the collection of all the backlinks that your website has from other websites. Building a strong backlink profile is essential for financial SEO because it can help you improve your brand reputation and domain authority.
Generating High-Quality Backlinks
High-quality backlinks are backlinks from websites that are relevant, authoritative, and trustworthy. For example, a high-quality backlink in the financial industry would be from a high-traffic website like Forbes or Investor's Business Daily (IBD).
You can use various methods and strategies to generate high-quality backlinks for financial SEO, such as:
Relationships with Industry Influencers
Networking is an essential process in many businesses, and it is also a crucial process if you want to build authoritative backlinks. For example, you can reach out directly to an authoritative financial blog to mention your company in an article. Also, if an authoritative website has mentioned you in a post, you can reach out and ask to include a certain or different link.
Guest Blogging and Thought Leadership
Guest blogging is writing and publishing content on other websites within a similar niche and including a link back to your website within the content or author biography. You can use guest blogging to establish yourself as an authoritative figure in your industry, as well as spread more backlinks across the web.
3. Website Structure and User Experience Optimization
Your website structure, and the experience the user has on your site, should not be overlooked in your SEO process. Users expect to have a fast and hassle-free experience on the website of a professional financial organization. If your site is not up to standards, not only will your organization lose credibility, but it will also show in your SEO outcomes when users continually close your site. Let's go over how to optimize the user experience and structure of your website.
Website Navigation and Architecture
Website navigation and architecture are the elements that determine how your website's content is organized, categorized, and linked together. This architecture includes things like menus, breadcrumbs, sitemaps, internal links, and more that can be strategically added to your site to improve the user's journey.
Here are some tips for optimizing your site's organization:
Use a logical and hierarchical structure that reflects your content's topics and themes (e.g. main navigation button with a dropdown menu).
Implement a responsive design that adapts to different devices, screen sizes, and orientations.
Make your layout and design consistent across all pages on your website.
Use a trustworthy and reliable hosting platform for your website.
Importance of Mobile-Friendly Design
In May 2023, Google finalized moving to mobile-first indexing, thus, it's essential that your website adapts to mobile viewing. The simplest way to make your website mobile-friendly is to use a responsive design.
Page Speed Optimization
Page speed optimization is the process of improving the loading time and performance of your web pages. To improve the page speed of a website, you may need to change aspects like images, code, servers, browser compatibility, and more.
Page speed optimization and scoring well on Core Web Vitals, are essential for financial SEO, as customers and clients in this sector have higher expectations for performance. To optimize your page speed, you can use tools like Google PageSpeed Insights to run tests, and then follow the given recommendations for improvement.
4. Improve Your E-E-A-T and YMYL
Another essential strategy for financial SEO is to improve your E-E-A-T and YMYL. But what are these concepts? Let's go over them below.
Experience, Expertise, Authoritativeness, and Trustworthiness
E-E-A-T (Experience, Expertise, Authoritativeness, and Trustworthiness) is a concept that Google uses to evaluate the quality and credibility of a web page. Google gives websites E-E-A-T scores based on factors like content quality, author credentials, site reputation, and user feedback.
To improve your E-E-A-T, include the following on your website for each word in the acronym:
Experience – Include real-life personal experiences and opinions. This can include case studies or customer reviews.
Expertise – List the credentials of your organization and its individuals, such as the credentials of a content writer of an article.
Authoritativeness – Add authority to your website with professional guest posts, expert checks for accuracy, and quality backlinks.
Trustworthiness – Make sure each page of your website is secure to use, such as for checkout pages that require personal information.
Your Money or Your Life
YMYL (Your Money or Your Life) is another concept that Google uses to classify web pages that have a significant impact on the user's health, happiness, safety, or financial stability. Thus, 'finance' would be classified as a YMYL topic according to Google. This means that websites in the financial sector will be held to different, higher standards that determine how they will rank.
A YMYL-classified website will need to place extra emphasis on improving the above E-E-A-T aspects. That's because these sites are more likely to have a direct impact on people's lives, so they need to be accurate, secure, and trustworthy.
5. Tracking and Measuring SEO Performance
Another essential SEO strategy for financial organizations is to regularly track and measure performance. This is particularly crucial in the financial industry as economic trends and events are constantly changing. These organizations are also expected to instantly adapt to technological trends, such as changes in search engines or browsers.
Monitoring Key SEO Metrics
SEO metrics are quantitative data points that reflect the results of SEO efforts. Key SEO metrics to monitor in the financial industry include:
Conversions/leads
Organic website traffic
Bounce rate
Click-through rate
Domain authority
Impressions
Keyword rankings
Pages per visit
Crawl errors
These metrics are best monitored using a tool like Google Analytics. Such tools also provide feedback on how to improve metrics. SEO is a constant process full of adjusting and optimizing to improve results, so it may be best to outsource financial SEO to experts.
Competitor Tracking
Competitor tracking is the process of identifying and analyzing competitor websites that are ranking higher than you for your target keywords. You can then learn from their strengths and weaknesses, and adjust your own website accordingly.
You can use SEO tools like Semrush to conduct competitor research about:
The keywords and phrases they are ranking for
Their backlink profile
The ranking of their content in specific niches
BONUS: Local SEO for Financial Services
Local SEO is a subset of SEO that focuses on optimizing websites for local searches. Local searches may include phrases like "financial advisors near me" or "tax services in City Name." If you're looking for local customers and clients, you'll want to utilize local SEO techniques.
Optimizing Google My Business Listings

To boost your local SEO, make sure to optimize and submit your Google My Business (GMB) listing. GMB is a free tool that allows you to create and manage your online presence on Google Search and Maps. It lets you display your business name, address, phone number, website, hours, services, and photos on Google Search and Maps, as well as collect customer reviews. When creating your business profile, make sure it uses precise language, is free of errors, and includes high-quality images.
Encouraging Customer Reviews
Now that your Google My Business listing is available to the public and looks professional, encourage your customers to leave reviews on Google. This may look like writing to your email list or providing incentives to future customers to leave reviews.
Unlock the Potential of Your Financial SEO Efforts
The financial industry requires specific, ongoing SEO processes that can be difficult to manage on one's own. Luckily, SEO experts like Sure Oak can take care of optimizing your website(s) for you, so you can focus on doing what you do best. Contact us today for a free strategy call to discuss how we can help your business flourish!